RELAX, BREATHE AND FEEL
Silence, Tranquility, Nature, Gastronomy, Culture, History, Art, Tradition...
Make the most of the silence, a delicious tasting menu with local products, a walk through the woods, the special light of Les Capçades and its magical sunset, the aroma of rosemary, our oil, the swimming pool, a healing massage with Mediterranean cosmetics, special and friendly service.
Les Capçades is a quiet place, to experience life in the countryside, at your own pace, where you can connect with nature and find inner peace in the here and now.
WELCOME!
A unique place to unwind
Hotel Les Capçades offers the best comfort to guarantee a pleasant and unforgettable stay in Terra Alta. Personalized rooms, well-taken care of and complete facilities, massage service... discover what your stay will be like!
Local produce
An unforgettable stay is accompanied by wonderful cuisine, made with local products and raw materials from our own crops. All this washed down with a selection of wines that will give you a taste of our culture and oenological roots
Enjoy a unique environment to breathe, rest and feel
Your wedding at Hotel Les Capçades
The first day of your new life should be celebrated in a place that inspires you with confidence and that transmits the special atmosphere you have always dreamed of.
Les Capçades ensures maximum exclusivity so that your wedding is unforgettable.
Ceremony

Your wedding in a flexible, personalized and
high quality incomparable natural setting.

Appetizers and reception

Exclusive gastronomy according to your preferences to be enjoyed in the forest, in the garden, on the terrace or in the dining room.
Party

Elegant and personalised spaces in which to have fun with the dance and the subsequent party.

Suite

You can avail of a suite decorated for the occasion and guests can also book rooms.
There is a place where time stands still,
where the nights are starry,
where music is silence.
A place where it is easy to forget about
the stress and the hustle and bustle of the city...
A place to get lost in,
where one can find themselves.
A place where only you matter.
You and your rest.
Go out onto the terrace
and take in the town's houses
and the millennial patience of the olive trees
that the air of Els Ports breezes gently over.
Close your eyes and take a breath...
A thousand aromas of rosemary, thyme, pine
and olivera will captivate your senses,
providing your body and soul
with an ancestral calm.
Here you can feel...
you can become engulfed in the scents of nature,
relive the memory of traditions,
dive into the relaxing properties of water,
savour the art of cooking...
And when you're far from here,
you can close your eyes, and remember,
and return to rest, to breathe, to feel...
RAMON SOLSONA
Activities and environment
Sports, nature and heritage; the treasure that is Terra Alta just a step away.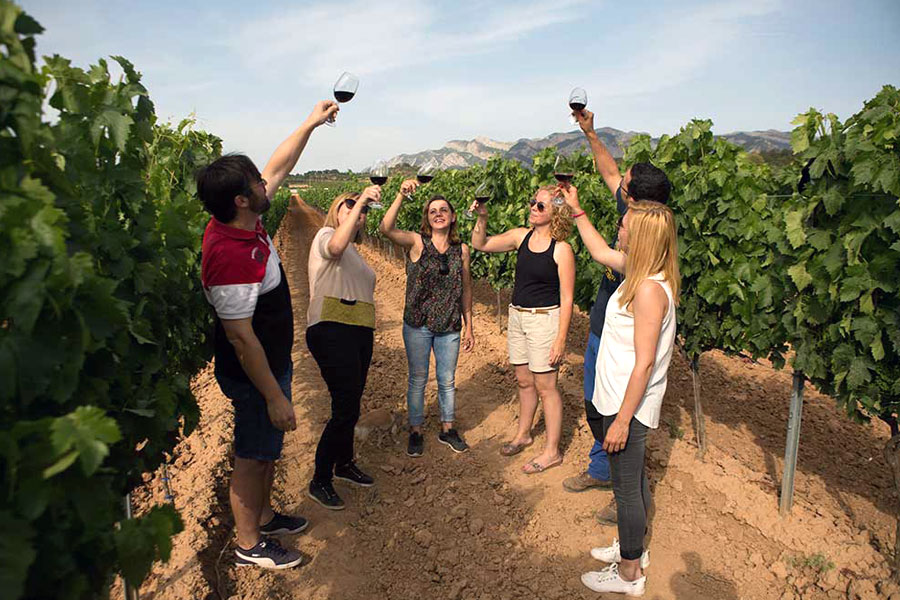 Come to the region of Terra Alta to discover the Grenache Blanc, the grape that represents this land, as 33% of the world production comes from our region.